A perky treat for your dinner guests
Directions
Heat pan with olive oil.
Rub roast with salt and pepper.
Place roast in pan, browning on all sides.
Add Tequila and deglaze pan, scraping up all the brown bits.
Add the beef broth.
Add the diced veggies and bay leaf.
Cover and simmer for 1 to 1 1/2 hours until tender.
Remove roast to platter, tent with aluminum foil.
Prepare Sauce-----------------.
Make slurry of the mustard, horseradish, peanut butter and Worcestershire, set aside.
Strain juices from the roast, pressing hard on the solids to get all the good stuff.
Return juice to pan and reduce, about 1/2 hour until about half.
Add mustard slurry.
Return to a simmer- correct seasoning.
Slice roast thinly, serving sauce on the side.
Most Helpful
msintrepid, I made your pork roast last night and I must say that it was just fabulous. For anyone who hasn't tried this yet, this recipe is NOT something that some dimwit like me just threw together -- there is a LOT of thought and science within this elegant dish. Does it look too complicated to prepare? Yes. Is it difficult to make? Absolutely not! Just follow the instructions as they are given. It's all stovetop and the roast comes out plenty tender. Now, I will issue a WARNING to unsuspecting chefs: When you pour 2 cups of tequila into a hot pan, one of those two cups is chemically PURE ALCOHOL and quite flammable. Be ready for this! I anticipated big flames and all I had to do is to have a wet dish towel ready to smother the flames (three feet flames at one point!). When you DEGLAZE, add the tequila a little at a time! That way, when the fire starts, it won't burn long and these will be small (4-6 inch) flames. The big flames come when you pour in the bulk of the tequila. Also, deglaze from the side unless you want your hands "dehaired". If you think that the fire is too much at some point (alcohol fire is not nearly as hot as "normal" fires -- I let it burn for 10 seconds), just calmly lay the wet towel completely over the pan and it will go out. If you have an exhaust fan over your stove (I don't), have it on before you deglaze. The fire might re-ignite for a couple of minutes until the alcohol dissipates, but you can just repeat the towel thing easily. Now, enough of fire -- the flavor of this roast is incredible! Most pork loin roasts don't taste like much of anything -- too lean. That is not the case with this recipe. Lots of great flavor. Don't be put off by the peanut butter sauce either -- I'm not a peanut butter fan but the blend of it with the dry mustard is sheer perfection. If you want to impress the heck out of somebody, make this dish and they certainly will be! Thanks very much for posting your fine recipe, msintrepid -- you are a great chef!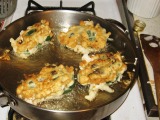 New Ground for me! I don't eat pork I just never liked it. I eat ham and bacon just nothing 'pork' (chops, roasts, etc) But when I found this recipe (being a tequila lover) I was intrigued...so giving my SO a coronary I asked for a pork roast to make for dinner today and showed this recipe. SO was leary of it until I said I would eat it...Just finished dinner...I ate my first pork roast in about 35 years! AND IT WAS AWESOME! I followed the recipe exactly, except I didnt have a roast that big so I scaled back a little on the ingredients. I had no problem withthe tequila (no fire at all) as I added it slowly to a very large pan. Served with 'smashed' potatos and lima beans. Sliced thin it was tender (fork cutable) and very juicy and although everyone was afraid of the mustard/peanut butter/ horseradish/worchester sauce slurry...everyone thought the taste was incredible the 'weird ingredients' combined to produce an incredible sauce! Although the pan juices alone were incredible the slurry made it fabulous I'm glad I took the chance! This is my ONLY pork roast recipe!

Very tasty and tender meat. Nice blend of flavors for the sauce.