Tequila Lime Syrup for Fruit Salad
jswinks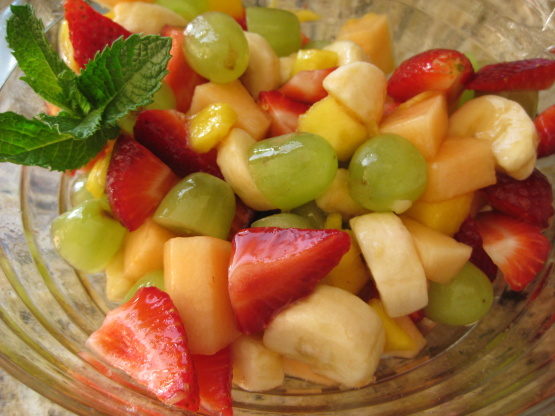 This is lovely syrup used to brighten up the flavors of a simple fruit salad. The recipe comes to me from the Santa Fe Cooking School and works especially well as a light dessert after a Southwestern meal. The flavors are reminiscent of the popular mojito. I like it best with more tropical fruits like pineapple, mango and banana but find it works very well with summer fruits such as strawberries and grapes. One batch of syrup is plenty for 4-6 cups of fruit. You can prepare this days ahead of time and mix with the salad just before serving.

This is an excellent 'dressing' for fruit salad. I did not have any fresh mint, but did have a bottle of mint extract. I experimented with the extract a 1/4 teaspoon at a time and for my taste, 1 teaspoon was perfect in place of the fresh mint. We had this over balled cantaloupe, mango, strawberries and blueberries.
Carefully wash the mint leaves removing any bruised leaves or stems.
Place sugar, water and mint leaves in a medium saucepan and bring to a boil over medium heat. Lower the heat and continue to simmer 15 minutes, occasionally scraping down sides to make certain all sugar crystals are incorporated.
Add the tequila and continue to simmer an additional 5 minutes.
Turn off heat and add the juice of one lime. Let syrup cool to room temperature.
Strain out the mint and refrigerate the syrup until ready to toss with your fruit salad.