loof751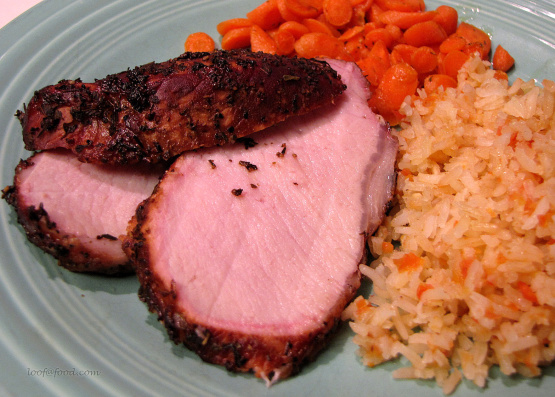 Boneless pork loin marinated in tequila and covered with a flavorful rub. Adapted from dLife. The recipe calls for fresh lime juice, but I used bottled (not the sweetened type) since 2 cups of lime juice is about 32 limes and that is too expensive and time consuming for a marinade :) Use 1 fresh lime for the zest and add juice from that lime to the bottled juice. Prep time includes 24 hour marinating time.

WOW - this is outstanding! The tequila and lime flavor really penetrated the pork and the rub mixture was the perfect complement. Cooked this in the smoker (using wood), keeping the temp at about 275 for about 2 1/2 hours. Really loved this - thanks for sharing a keeper! Made for ZWT8, Chefs gone WILD!
Place pork in a large zip-type plastic bag.
Combine tequila, lime juice, oil, garlic and 1/8 tsp salt in bowl and por over pork in bag. Seal and refrigerate 24-48 hours.
Remove pork from bag and discard marinade. Pat pork dry.
Heat oven to 350°F.
Mix remaining ingredients in bowl and pat mixture over all surfaces of pork.
Place pork on a rack in shallow roasting pan. Roast 1-1 1/2 hours until internal temperature reaches 150°F
Remove from oven and let rest 10 minutes (internal temperature will rise to around 160F).
Slice and serve.
NOTE: This could probably be done on a grill, too, but cook time might need adjusting.