Tequila and Lime Game Hens (Or Chicken)
teresas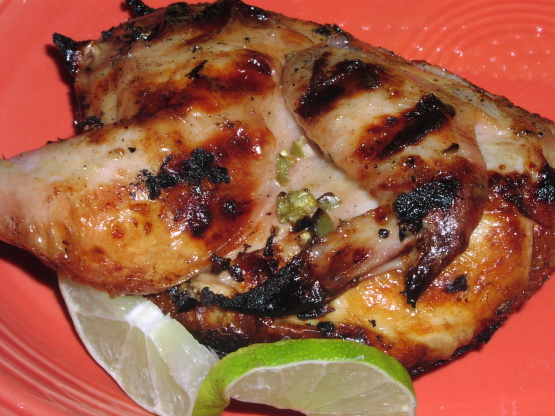 Split game hens marinated in tequila and roasted. COULD BE GRILLED IN SUMMER. Serve with rice. This is for 4 servings, 1/2 hen each, or 2 servings if you want a whole hen per person. Prep time includes overnight marinating. NOTE: A cut up fryer chicken could be used instead of game hens.

This is so good! I made just as posted but I do have to admit that I marinated it for 1 1/2 days and decided not to pour the boiled sauce over the hens. I thought that the sauce would not enhance the overall look of the finished dish. And also I knew that the flavor was infused in the bird. I did make it with the game hens but did use only one for two of us. Very yummy dish. This is so good that I'm planning to use the same marinate for our pheasant. Thanks once again mikekey for a wonderful recipe. :)
Split game hens in half.
In bowl, combine lime juice, tequila, olive oil, Cointreau, garlic and jalapeno.
Place split hens in oblong baking dish and pour tequila mixture over; turn hens to coat.
Cover and marinate, turning once or twice, overnight in refrigerator.
Remove from refrigerator and let set at room temperature about 1 hour before cooking.
Preheat oven to 400°F.
Coat a shallow baking pan with nonstick cooking spray.
Remove hens from marinade and arrange, skin-side up, in baking pan.
Season with salt and pepper to taste.
Bake at 400 degrees on upper rack of oven, basting occasionally with marinade, until skin is golden and juices from thighs, pierced at their thickest part, run pinkish-yellow, 30-40 minutes. (Or bbq using your favorite method, spit or on the grill).
Boil remaining marinade and pour over hens just before serving. (Add more tequila if needed, to make enough sauce).