Bobtail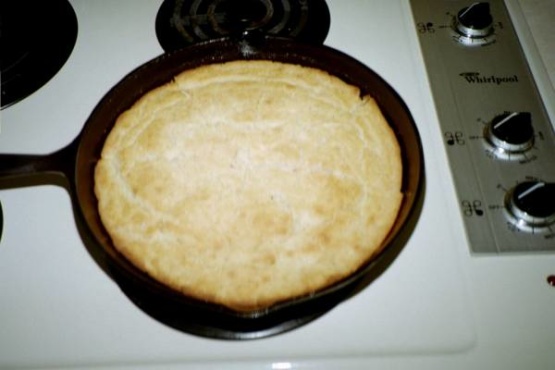 This is spectacular. I got it from McCall's Cooking School Cookbook. I have a hard time getting it out of the pan 'pretty', but even when it comes out in pieces, it's wonderful.

This is pretty much how my family (in Tennessee) has made cornbread for years. You can use cornmeal mix and cut down on prep time. Just a note though - use a well seasoned cast iron skillet. It will not have the same texture if you don't. And if the skillet is well seasoned, you don't have to worry about the cornbread sticking. I typically use brown sugar (just a couple of tablespoons) and bacon grease sted of butter. I think it makes it crispier.
Prepare Corn Bread: Heat oven to 350°.
Put butter in 9x5x2 inch loaf pan.
Place in oven to let butter melt.
Meanwhile, sift together in large bowl cornmeal, flour, sugar, salt, baking powder and baking soda.
Add buttermilk and egg to cornmeal-flour mixture.
Remove loaf pan from oven and pour hot melted butter into cornmeal mixture.
Set loaf pan aside to cool.
Using a wooden spoon, mix corn bread batter only until all dry ingredients are moistened.
Thoroughly grease the inside of the cooled loaf pan with solid vegetable shortening.
This corn bread can stick to the pan so be SURE YOU GREASE THE PAN VERY HEAVILY.
If possible, use a pan with a nonstick finish.
Pour bread batter into prepared pan and put it on the center rack of the preheated oven.
Bake for 1 hour or until a cake tester comes out clean.
Bread should be very light golden brown.
Remove pan from oven and immediately turn bread out onto a breadboard.
Let cool about 5 minute.
and cut into thick slices.
Serve with plenty of butter or honey butter (makes 1 loaf of bread).