Tenderbelle's 3 Bean & Ham Soup
In my search for a way to use leftover Christmas ham, I found Red Cabbage (Rot Kohl) by mandabear. In turn, I think she got it from Mr. Food. Well....I adapted the recipe to fit the taste of my household and this is what I came up with. It is simple to prepare, and delicious...especially the second time around. Enjoy!
2 (14 1/2 ounce) cans Swanson chicken broth, ready to use
2 (16 ounce) cansbush's butter beans, undrained
1 (16 ounce) canbush's black-eyed peas, undrained
1 (16 ounce) canbush'es pinto beans, undrained
1 (8 ounce) can Rotel Tomatoes, undrained (mild)
1 (8 ounce) can diced tomatoes, undrained
1 (15 ounce) canliced potatoes, undrained
1 (15 ounce) cansliced carrots, undrained
3 cups cooked ham, diced
1 small onion, chopped
salt, to your liking
1⁄4 teaspoon black pepper
1⁄4 teaspoon crushed red pepper flakes
1⁄4 teaspoon garlic powder
Directions
In soup pot, combine all ingredients. Bring to a boil over medium heat. Reduce heat to low; cover and simmer 1 - 2 hours. Stir on occasion, checking liquid. May add water if needed.
Reviews
Most Helpful
So simple, and my kids love it! It's also really easy to customize with what you already have in the pantry!!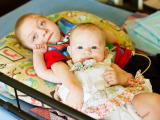 Whole family loves it! Very simple to make.