Tender Pork Chops in Gravy
Vontresa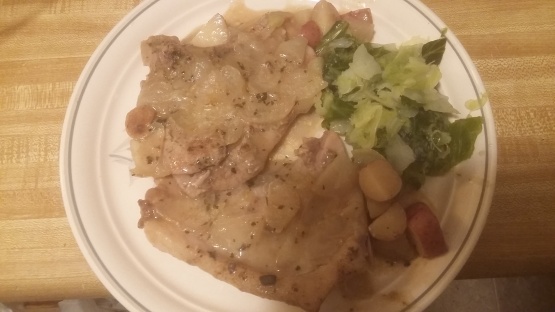 I'm posting this as a reply to someone who was looking for tender pork chops without using a crock pot. I've had this recipe for so long, probably even before there WERE crock pots! (BTW - this recipe can also be made in a crock pot.)

This recipe suggests 30 minutes prep time--it sure didn't take me that long, especially when using unpeeled smaller red potatoes (cut up). I'm still not a big fan of recipes using creamed soups, but this one does taste good and makes almost an entire meal--very convenient when time or effort is short. While those three submitted photos look nice and clean, my gravy bubbled over in the oven. You might want to put something underneath the casserole dish. Thanks, Claudia.
21.26

g package brown gravy mix

283.49

g can cream of mushroom soup

283.49

g can water

3-4

potatoes, peeled, cut in half

1

onion, sliced, cut in quarters
Brown pork chops in frying pan. I like to sprinkle with seasoned salt, seasoned pepper and a small amount of garlic salt when browning.
Remove from pan and place in casserole dish.
Mix brown gravy mix, soup, and water.
Place potatoes and onion around pork chops; cover all with gravy mixture.
Season with salt and pepper.
Cover and bake at 350 degrees Fahrenheit for 1 hour or until potatoes are tender.