Tender Crock Pot Roast Beef
Pamela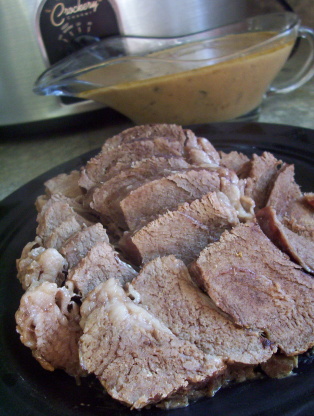 So delicious, tender and EASY to make, this yummy roast beef dinner will greet you after a hard day at work! The wonderful gravy is best served over mashed potatoes or rice.
As long as you make sure the entire pot is heated above 140 for 15 min (beef cook temp is really only 135 but potatoes are 140) you should be ok. (It's when cooling food you have to be careful... Especially if it's cooked first, but "ready to eat" cold. Like guspacho soup or Chicken (for chicken salad). Heat kills bacteria, medium temp range grows it, freezing hinders growth and spread but; sometimes preserves bacteria and sometimes kills it. chili in some restaurants is actually made from week old hotdog and hamburger extras. Recooking the food will kill the bacteria and reset the shelf life of the old meats.
5

lbs roast (frozen)

2

(10 ounce) cans cream of mushroom soup

1

large onion

1

(10 ounce) can sliced mushrooms

3

tablespoons onion soup mix
salt and pepper
Place frozen roast beef in crock pot.
Empty two cans of cream of mushroom soup, mushrooms and onion soup mix on top and add salt and pepper to taste.
Coarsely chop onion and place on top and around roast.
Cover with lid and place on low for 8-9 hours or on high for 4-5 hours. Enjoy!