Tender Crock Pot Meatballs & Sauce

These are easy to make, and soooo delicious! There is no need to brown the meatballs first, so the recipe is fuss-free! I often prepare this when I'm expecting company, as a batch goes a long way. Serve with spaghetti and some fresh-baked bread, and you're all set! If desired, use half and freeze half for later use. (Just thaw overnight, and heat through before serving.)
Directions
Combine sauce ingredients in crock pot, stirring well.
In a large bowl, mix together the meatball ingredients.
Form into balls, and drop into sauce.
(Pat first layer down into the sauce before adding another layer).
Place lid on crock pot, and cook on low for about 8 hours.
Skim grease from surface with a ladle, then stir before serving.
Most Helpful
I followed the recipe as written and it is truly delicious, not too spicy for the kids when they visit.
Thanks for posting this recipe.
This was about the best meatballs and sauce I've ever had. I used 2 lbs of meat because I buy my ground beef in bulk and freeze it in 1 lb packages. I followed the recipe just about exactly except I used salt and pepper in the meat but none in my sauce because I figured it had enough salt and pepper from the spaghetti sauce and parmesan cheese. Oh, I also used breadcrumbs from a can; I guess that's not fresh. First the sauce. I like a Tomatoe Bazil sauce so I used a jar of that. The parmesan cheese thickened up the sauce with the addition of the can of crushed tomatoes perfectly in my opinion, so the sauce was delicious. Yes, there was some grease floating on the top - so what? You are cooking ground beef. My beef was 80% lean, so I skimmed that off with a spoon. Second, the meatballs were as firm as you would want them - surprising given that I used a crock pot. I admit that I only cooked the meatballs for about 6 hours. The last hour I upped the temp to high to be sure they were done and then reduced it back to low when I saw the sauce boiling so that was really only like 1/2 hour on high. I guess because I like bazil so much the meatballs were delicious. My girls liked the meal too. Both of them had second helpings and I even had a third portion an hour later for desert - why not - the crock pot had not cooled down yet - ha! This made just the right amount of sauce to meatballs. I like a lot of sauce. I don't think I will be able to freeze any because they were so good, I can't wait to have some for lunch tomorrow. Thanks for such a simple but delicious meal!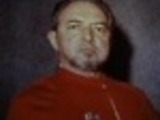 We enjoyed these but wasn't really impressed. The sauce was way too watery for me and I didn't like how much grease there was either. Also while I was stirring the meatballs fell apart so I had more of a meat sauce than meatballs.