Tender Carrots With Apricots
PaulaG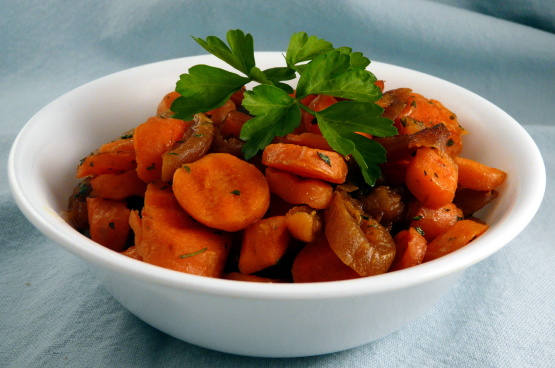 This is a lovely side dish with ham or chicken. Very simple to make too. Soaking time for the apricots is 1hr 30mins.

Tasty side dish. I did use the most pathetic tasting carrots ever so I added additional sugar both with cooking (white) and when reheating (brown), reminds me why I am to buy only organic carrots, I used very soft sulfured (orange) dried apricots so I did not soak them the full amount of time, the other two ingredients and no optional parsley. Nice as a side dish to, recipe#307071, which we had with recipe#191855 and an onion raita for a good meal. I would make these again with sweet organic carrots. Made for ALMOST 5 GAME.
Cover apricots with hot water in a bowl and soak 1 1/2 hours.
Drain and pat dry.
Cut apricots into thin strips.
Combine next 4 ingredients in a heavy nonstick pan over medium heat.
Cover tightly, reduce heat to low and cook 12-15 minutes, or until carrots are just tender.
Add apricots and return to heat 1-2 minutes.
Serve carrots sprinkled with parsley if desired.