AMDmtmom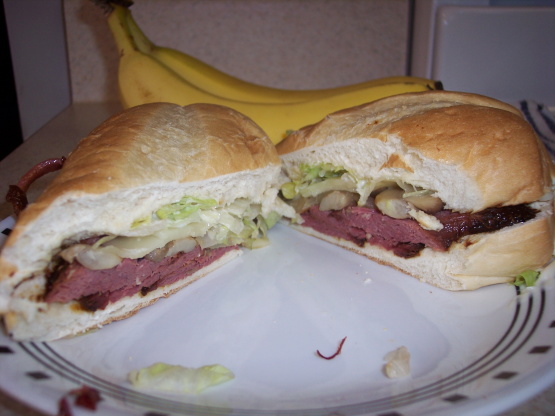 The brisket will fall apart and is great for sandwiches for school lunches. My kids loved them. (So did I) LR

What a wonderful recipe! I made it just as directed and it FALLS APART! Am preparing it again right now. Thank you for sharing!
Line a baking pan with aluminum foil leaving enough overlap to close over top of brisket.
Trim excess fat from brisket and sprinkle liberally with Lawry's season salt and black pepper, both sides and ends.
(Brisket can be browned in cast iron skillet in olive oil if you wish) Shake Zesty Italian and pour half the bottle into the foil lined baking pan.
Add brisket to pan.
Sprinkle contents of Lipton Instant Onion Soup envelope around pan.
Add 12 ounces of Budweiser beer.
Slice open two large onions and add to pan.
Add a bay leaf or two to pan.
Pour remainder of Zesty Italian Dressing over brisket.
Close foil tightly and Bake at 325°F for 2 1/2 to 5 hours.
Open foil, turn brisket.
Close foil tightly and bake 2 more hours.
Take brisket from oven.
It will fall apart.
It makes the most delicious sandwiches.
Potatoes, carrots and onions can also be added during final hour of cooking.
The pan drippings make a wonderful sauce.
It can be thickened with flour, starch or arrowroot.
Don't forget to remove the Bay Leaf.