Tender Balsamic Marinated Pork Tenderloin
vrvrvr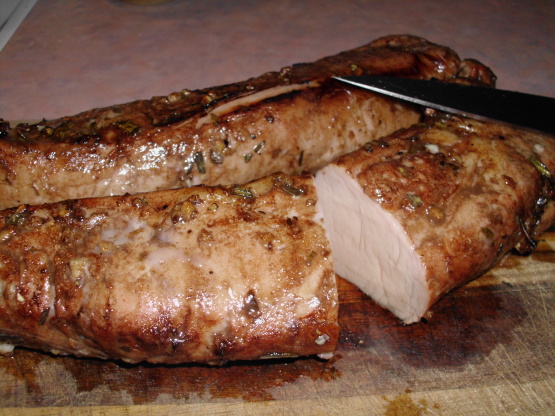 My MIL was comming over for dinner and I came up with this recipe. I actually made two pork tenderloins, one marinaded in this, and another store bought tenderloin that was marinading in the package. This turned out far better! Cook time is an estimate.

Top Review by vrvrvr
Yummy pork tenderloin. Mine ended up marinating for a really long time (24 hours) because the meal got "bumped" to another night. The result was super flavorful meat. I used fresh rosemary in the marinade. It had an appealingly tangy aroma while roasting, very pronounced balsamic vinegar taste which we enjoyed. Served with cheesy potato bake and fresh asparagus. Loved this!!
Add oil, vinegar, garlic, rosemary, worcestershire, and pepper in plastic bag.
Shake to mix.
Add pork tenderloin to bag and marinade 4-24 hours.
Cook on grill or oven.
Oven setting is 375, usually 25 minutes per pound.
Pork is done when thermometer reads between 140 and 160 degrees.
I take mine out of the oven when it's at 140 and then let it rest, because when meat rests, it continues to cook and will reach a higher internal temperature.