Yorie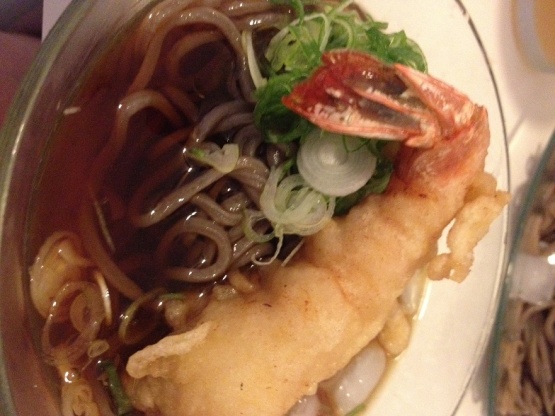 Soba is the Japanese buckwheat noodles.Soba is very popular in Japan.There are inexpencive fast food at railway stations called name Tachigui soba where customers stand at a counter whi eating soba noodles. It's convenient when you're busy because you can be in and in a short period of time.Each dish costs between $2-$4 and the cheap price make it very popular with businessmen.
2 7⁄8 ounces dried soba noodles
1⁄2 gallon water, to boil
1⁄2 cup noodle soup base (x4 concentrate)

1

cup water, for noodles soup

4

tablespoons tempura flour

3

tablespoons water
chopped green onion
To make shrimp tempura pull off the outhershell.Keep the last segment of shell and tail tip on.
Devein the back of shrimp with skewer.
Make a couple of slits underside.Hold the shrimp with both hand bend it backward to make it straight.
Heat the oil to 340F for tempura and boil the water in a large pot for boil noodles.
In a bowl put tempura flour add cold water and stir it dont mix too much.
When oil is getting close to 340F put some flour and coat the shrimp and dip it in batter and fry(usually 2-3min).
Put soba noodle into the boiling water boil it until cooked(usually 5min).
While boilling combine the noodle soup base and water if you want hot noodles,warm up it.
Strain away the water, if you want to cold noodles rince them in running water.
Serve the noodles and Tempura with green onion with wasabi,and mentsuyu.