Tempura Batter - Gluten Free
hderby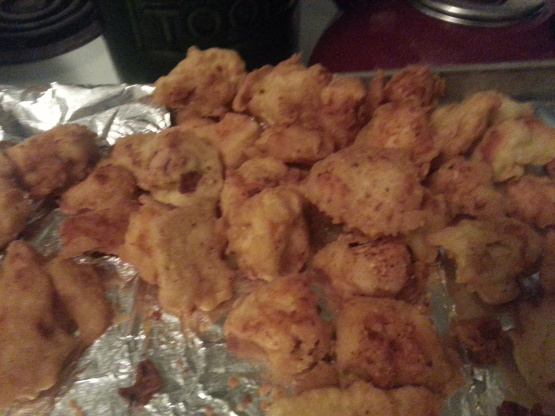 This is a very light and crisp batter. Its great for sliced vegetables, prawns, squid pieces, calamari, cocktail fish pieces etc.

I made this last night using shrimp, green beans, and mushrooms. Fantastic. I had to add considerably more than 1 cup of water though. I think this may have been because the flour mix I used has a lot of corn starch in it. I plan to make this for dinner with some non-GF friends. I don't think they will be able to tell the difference. Thanks **Jubes**!
TO MAKE BATTER.
Pour the beaten egg into a measuring jug and add enough icy cold water to make up to 300ml. Pour into a large mixing bowl.
Add the flour and mix roughly & lighlty with a fork. Do not beat the mixture, it should remain lumpy looking. Add a few ice-cubes to keep the batter cool.
TO USE BATTER.
Have your selection to be battered prepared before you make the tempura batter. Ensure you oil is to temperature approx 175°C or 350°F degrees.
A mixture of 3 parts vegetable or olive oil to 1 part sesame oil gives a great flavour.
Lightly dip selection to be battered in a gluten-free flour to coat, then dip into the tempura batter mixture and straight into the hot oil. Slowly add the battered pieces into the oil. Fry very small batches at a time. Dip fry until the batter is crisp. Drain on a wire rack.