Tempting Mochachino Trifles for Two!
Um Safia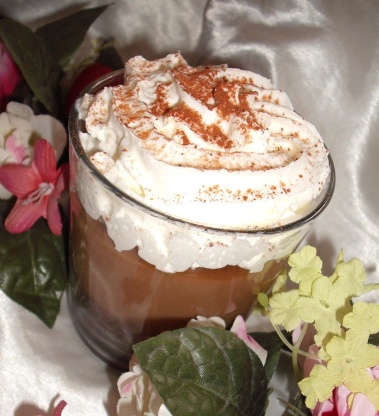 Here's a delicious dessert which is sure to please anyone who loves chocolate coffee together. I had a little cake left over after making a chocolate wonder cake & came up with this recipe to use it. I like to serve these trifles in tumbler / mixer / low ball glasses but they are equally beautiful in any dessert glass or if you want a quirky presentation, serve them in a coffee cup!
Cut the chocolate sponge to fit your choice of glasses.
Pour the chocolate syrup over the sponges.
Make the custard by mixing the custard powder (or cornflour & vanilla) with the milk & the sugar - add a little milk to make a paste then gradually add the rest. Cook over a medium heat, stirring continuously, until the custard has thickened.
Add the coffee to the custard & beat in with a wooden spoon. allow to cool a little then pour the coffee custard over the chocolate sponges.
Set aside to cool, then chill.
Just before serving, top with the whipped / squirty cream. Dust with cocoa & top with the coffee beans if using.
You can make this a cappuccino trifle by using coffee sponge in place of chocolate. Even jazz it up by soaking the sponges in your fave tipple!