Ted's 50 Minute Vegetable Borscht
Bergy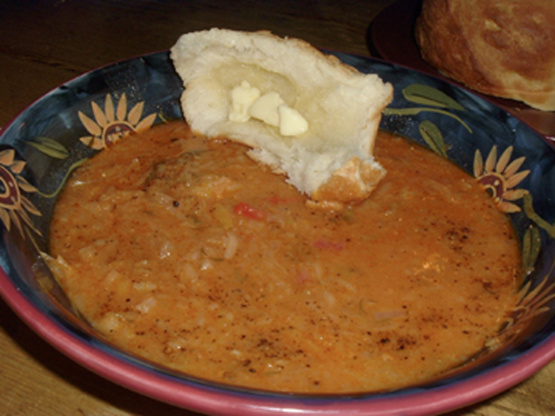 This is a very good soup. One of the beauties of this borscht is you can make it in an hour instead of days. It is important that you follow the steps and that you fry the half cabbage in the butter with the onion. If the Borscht is too thick when all the ingredients are in rinse out the fry pan with a bit of water and add to the soup.
Bring water to boil in a large pot.
Prepare all your vegetables.
Use Food processor as a short cut.
Clean& chop 2 onions keep them separate.
Clean& Chop 2 stalks of celery, keep separate, chop leaves too.
8 Potatoes, peeled, 4 cut in half and 4 fine diced, keep separate.
2 carrots, finely chopped.
1 cabbage, chopped separated into 2 piles.
1 Green Pepper seeds& membrane removed, chopped.
In a large frypan over low heat melt 1/4 lb butter.
Saute 1 chopped onion, 1 stalk of chopped celery until the onion is light brown.
Add 1 cup of tomato with some juice, simmer 10 minutes.
Pour ingredients from the fry pan into the pot.
Add to the pot the half cut potatoes carrots, second stalk of celery, celery leaves, 1/2 of the cabbage.
Salt to taste.
Simmer.
Melt 1/4 lb butter in fry pan, saute remaining onion& other half of the cabbage apprx 10 minutes, add remaining tomatoes simmer 15 minutes.
Pour contents from fry pan into pot, add the beet and green pepper Add diced potatoes.
Remove the halved potatoes from the pot, mash with 1/4 lb butter, 1/2 pint of cream add pepper, mix well.
Add mashed potatoes back to the pot stir and bring to a boil but do not boil.
Light simmer for 5 minutes.
Remove the beet when your Borscht is a lovely pink color, save it for another use.
Serve in bowls sprinkle with chopped green onions and dill.