Ted Allen's Sesame Peanut Noodles

Ted Allen is best known for being the food and wine guy on Bravo's popular Queer Eye For The Straight Guy. But he was an accomplished cook and writer long before Bravo. This a great recipe because it takes little effort and produces results that make people think otherwise. Allen says you can add cooked chicken or shrimp or asparagus to this dish. I like it with soba, a Japanese-style noodle made from buckwheat, but you can make it with penne, fettuccine, or farfalle, as well.
Directions
Bring a large pot of salted water (1 teaspoon salt per quart of water) to a boil.
Meanwhile, toast sesame seeds in a dry skillet over medium heat, stirring frequently, until they turn a light golden brown, about 4-5 minutes.
Combine peanut butter, sesame oil, peanuts, soy sauce, vinegar, mirin or sherry, garlic, and red pepper flakes in your food processor and puree Stir in half the toasted sesame seeds.
Cut cucumber in half lengthwise and scoop out the seeds with a spoon; discard the seeds. Slice cucumber halves crosswise about 1/4 inch thick and set aside.
When the water comes to a boil, add noodles and cook until tender, about 4 to 5 minutes. Drain very well and add noodles to a bowl. Add mixture from food processor, cilantro, and black pepper, and toss to coat.
Turn out onto a large platter. Arrange the cucumber slices around the edge of the platter and sprinkle with scallions and the remaining sesame seeds. Serve warm or at room temperature.
Reviews
Most Helpful
Very good! Its the second time that I`ve made it. My husband who is mainly a hamburger, cheese type of guy really loved it! Now that`s saying something. I made it exactly as posted except I small diced the cucumbers & sprinkled them on top. Its going into my Favorites cook book to do again. Thanks for posting! Vi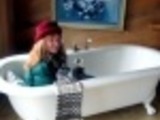 Really good! I didn't have a cucumber so I left that out and I used thin spaghetti instead of soba noodles. I also added a bit of lime juice, and a little bit more than 1 tbsp of honey added just the right amount of sweetness. This would be excellent with the addition of an assortment of vegetables and maybe even some chicken or something.