KateL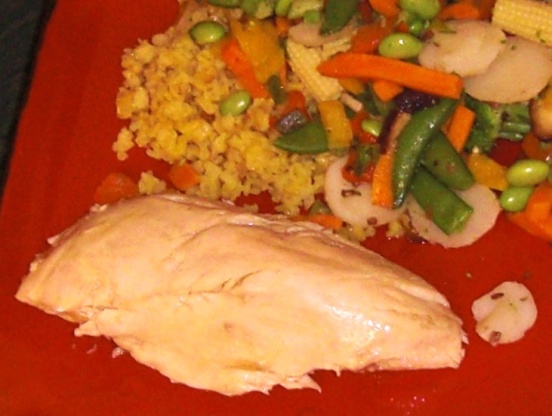 This is smoked in a wok. Between the curing, steaming and smoking, you end up with a tasty chicken that is very moist and has a lovely firm texture. I usually find the breast meat too dry on a roast chicken, but not on this one! Good hot or cold. Prep time does not include marinating time.

Top Review by KateL
If you need a steamed chicken alternative, this is it. Couldn't find Szechuan peppercorns, so substituted Szechuan seasoning. I was puzzled by the lack of liquid for the smoking portion, but followed the directions. For the hassle-factor, this needed to be better for our palate; we are not this restricted at this time. DH wasn't thrilled with the black tea flavor. I think the tea and brown sugar could have been added to the water for the initial chicken steaming. For finishing, the chicken could have been glazed with sesame oil and sesame seeds and broiled to brown for a more appealing appearance. The lack of measurement for the sesame oil caused the sesame oil to be omitted from the nutritional analysis, but this ingredient is loaded with calories and should not be taken for granted. Originally reviewed 3/13/09, but when I ate cold chicken on 3/14/09 the taste came through much better, and this would make a killer chicken salad! Thanks for posting this recipe, graffeetee. Made for Top Favorites of 2008 Tag, based on Maito's recommendation.
Toast the salt and peppercorns together in a skillet over a low flame until it starts to smoke.
Let cool and grind in a mortar and pestle.
Rub the mixture all over the chicken, inside and out.
Refrigerate overnight.
Steam the chicken in a large pot for about 45 minutes, until juices run clear when thigh is pricked. I use one of those collapsible steamer inserts in a soup pot. Do save the resulting broth, it's quite flavorful.
Line a wok and its lid with heavy-duty foil.
Combine the tea and sugar in the bottom of the wok and place a rack over the mixture.
Heat the wok until the mixture begins to smoke.
Pat the chicken dry and place on the rack.
Cover the wok tightly and smoke the chicken for about 15 minutes.
Remove from the heat and let the covered wok stand for another 30 minutes.
Cut the chicken into serving pieces and brush with the sesame oil.