PetsRus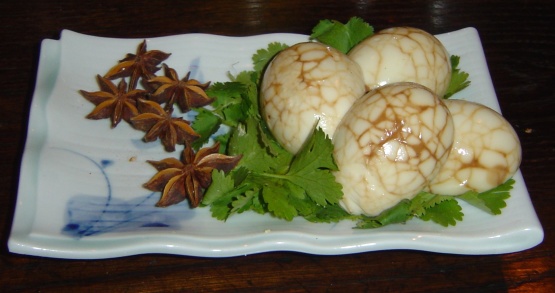 Fun to make and a nice addition to a Chinese meal, not just for decoration and they are always a talking point. The flavour is despite the spices not very strong--delicate is a better word. I like to serve them with the Chinese porridge/soup Congee.

Top Review by AWinPA
The taste was fine, but a lot of time spent for not much flavor difference from regular eggs. Also, although I cracked them all over, I got very little color in terms of the shade and not even a lot of lines. I will try again using more spices/tea plus soak them longer to see if I can get them darker.
Boil the eggs in water for approx 8 minutes, depending on size.
Lift the eggs out and place in cold water.
To the water in the pot add the salt, soy, star anise, five spice powder and tea.
When eggs are cool enough to handle, gently crack the shells with the back of a spoon until the entire shell is a network of cracks, do not peel!
Bring the water in the pot back to the boil, and return the eggs to the pot, they need to be covered with water, add more if needed.
Gently boil them for 30 minutes.
Switch off the heat and allow the eggs to cool in the liquid for the minimum of 3 hours.
Peel and serve them cut in half or quarters as a snack or use them as a garnish.