Tea Fruitcake Recipe Courtesy of Lynn Kearney
Pixie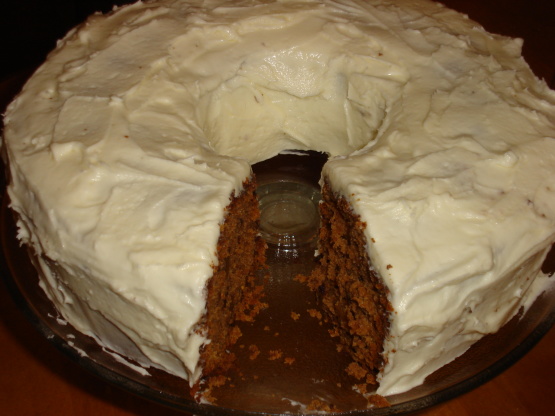 I am guilty of posting a recipe I haven't made yet, but I have almost everything and will be soon:) This was a featured recipe on the Food Network and I liked the combination of fruits used in this, all tasty and familiar. It has a 5star rating on the Foodtv site. The creator of the recipe, Lynn Kearney, owns and operates a B&B and serves this there.

Top Review by Pixie
I was looking for a fruitcake recipe that looked like it would fit in a bundt pan and didn't have milk as an ingredient. I followed the dough part of this recipe exactly with the exception of replacing the brandy with orange juice. The dough mixed up beautifully - smooth and light. I made the fruit part based on what I had in my cupboard, which ended up being about three cups of golden raisins, walnuts, currents, dates and dried figs which I diced and soaked in orange juice. Anyway, this made a perfectly lovely bundt fruitcake which I frosted with an orange/vanilla icing. Delicious. Thanks for posting the recipe.
In a medium bowl mix together the fruit, walnuts, lemon zest and brandy. Cover and allow to macerate in the refrigerator for at least 24 hours or up to 7 days, stirring occasionally. Drain off any excess liquid before making batter.
Preheat oven to 350 degrees. Butter and flour 2 9"x5" loaf pans.
In a large mixing bowl cream the butter and brown sugar until light and fluffy. Add eggs one at a time and beat well.
Sift together the dry ingredients and toss 1/2 c of this mixture with the fruit. This will help to "suspend" the fruit evenly throughout the loaf.
Add the remainder of the dry mix in two batches to the butter mixture, alternating with the orange juice and brandy.
Beat until incorporated. Fold in the floured fruit and nuts.
Spoon batter evenly between the 2 loaf pans.
Bake 1 hour and 15 min up to 1 hr and 30 minute or until a toothpick comes out clean.
Cool 5 min in pan then turn out gently and cool on a rack.
Can be wrapped and frozen whole or in slices.