Prep 1 hr 40 mins
Cook 10 mins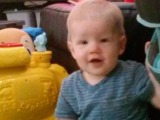 These have always been a favorite of mine to serve to my Craft Night ladies.
Directions
Melt margarine in pan.
Add milk, heat until 45 C (115 F).
Dissolve yeast in liquid.
Add sugar, salt, bread spices, most of the flour.
Knead dough until mixed well.
Rise for 20 minute
Knead dough.
Use rolling pin to roll out large rounds (about 1/4-1/2 inches thick).
Cut circular shapes, about 4-5 inches in diameter (use bowl or something circular).
Put on cookie sheet, use fork to make air holes.
Rise for 30 minute
Bake in oven at 440 F (225 C) for about 10 min, or until golden.
Serve and enjoy.
Most Helpful
These are delicious and I'm thinking versatile. This morning we used them as toasted English muffins filled with cooked egg, sausage, and cheese for breakfast sandwiches. I can also see them served English crumpet-style toasted with butter on top. So, with the holes on top, I'm also thinking these are probably meant for a glaze, so later today I tried them topped with recipe #401532. I've never had a tea cake, so I'm using my imagination on ways to serve these! Also, not sure what "bread spices" are, so used my Pampered Chef cinnamin plus blend for some spice. Thanks, litldarlin for posting! Made for My 3 Chefs event.