Tay's Hot and Spicy Salsa
PanNan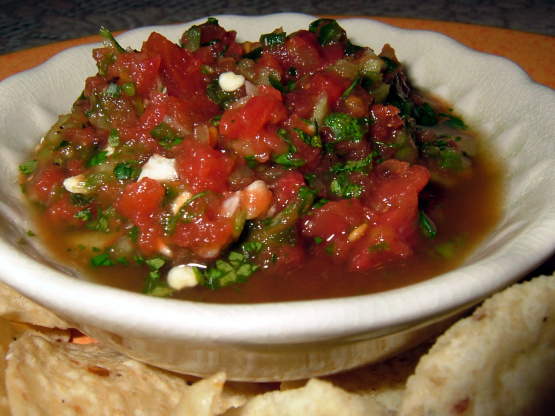 This recipe was on Paula's Home cooking today. Recipe courtesy Taylor Veldhuis. Posting here for safe keeping so I can give it a try. Looks yummy!

Top Review by PanNan
I loved the idea of the fresh cilantro and lime. I also think the house seasoning was a nice touch. Unfortunately I couldn't get much of the taste, as it was so hot my mouth was on fire (and I like things HOT). What flavor I could taste was great. I will pay more attention to the cook's note next time, and cut the amount of pepper and/or leave out the seeds.
Put everything but the tomatoes in a food processor. Chop until diced.
Add the tomatoes.
Serve with chips.
Cook's Note: This recipe can be very hot and can be made without the jalapeno seeds and veins to make it less hot.
House Seasoning:
1 cup salt, 1/4 cup black pepper,1/4 cup garlic powder.Mix ingredients together and store in an airtight container for up to 6 months.