Thorsten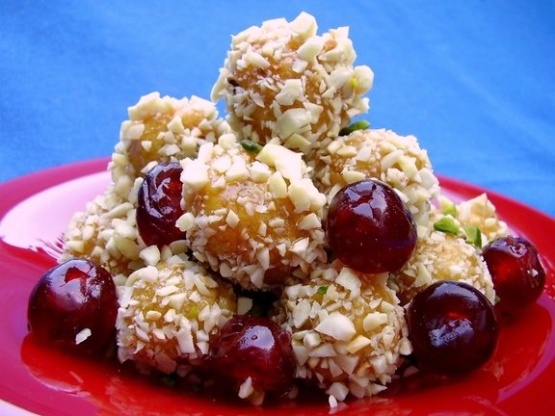 I have looked high and low for this wonderful sweet from my childhood to no avail. I finally came up with a version that is very much the same in taste if not in looks. This is a treat for young and old alike. This recipe comes from one similar in an old cookbook from Temple Beth Israel with which I experimented.

What a wonderful sweet delicacy and you will sure please young and old with Tayglach (a sweet dessert). They can be prepared in advance and are even better the next day (if you still have some). First I was a little bit hesitant, because I have never cooked with so much honey, but the recipe is easy and I am very happy that I have tried Tayglach. I followed the recipe as described. I didn't use wine for the raisins (I did as suggested and drank it). The Tayglach are sweet, but not too sweet as one could asume from the use of honey and sugar in the recipe. During cooking the honey develops a tasty malty flavor. And ginger adds a discreet pepperiness (I like the taste of ginger here and I will add some more next time). The roasted almond inside is a nice contrast to the sweetness. I rolled the Tayglach in chopped almonds to avoid that they stick to one another. You should keep them in an airtight box. The delicious distinct malty and roasty flavors and sweetness of honey and raisins will be an excellent combination with a glas of sweet white wine or a dry red wine. Add some cheese, invite some friends and you will have a wonderul time. Next time I am sitting outside on warm evening with friends and some Tayglach, I will watch the stars and will know that more than five of them belong to this recipe. Thanks.
Make a well of flour,salt and 1 tbsp sugar in a large bowl.
Add oil and eggs and mix very well with wooden spoon.
Dough will be quite elastic.
Pinch off large egg-size pieces.
Roll these between your hands (lightly flour if needed) until you have a piece as long as a drinking straw.
Place on floured board and roll flat so it is~ 1 inch wide.
Cut into 1 inch pieces.
Place one almond and two raisins on each piece.
Roll into a ball making sure that it is sealed completely.
Set aside.
In large pot bring honey,sugar and ginger to a boil.
Drop the pieces in and reduce heat to medium.
Cook for 35 to 40 minutes.
Stir with wooden spoon as needed.
Adjust your heat to maintain a slow rolling boil.
Remove pieces from honey with slotted spoon and set aside.
Turn heat to low, add hot water and cook down.
Stir frequently.
When mixture is 1/4 gone, remove from heat and return pieces to honey to coat again.
Remove with slotted spoon to cookie sheet or flat platter to cool.
At this time,you could sprinkle with crushed almonds (leftovers).
The wine is for your raisins, if you wish, to plump them.
Make sure they are drained and patted dry before using.
If you don't use the wine this way, you can do what I do and drink it!
The finished tayglach will be sticky and remain this way, as it should.
You can store them in an air-tight container and they will keep nicely for several weeks.
If you are creative, you can make a pyramid of them, sticking cut red and green candied cherries among them.