Boomette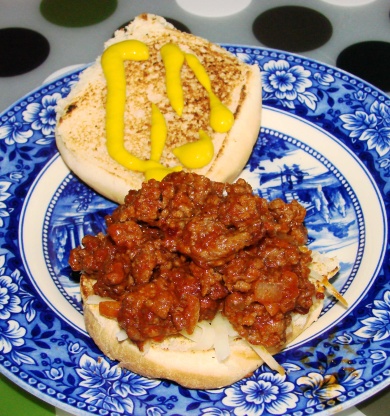 Taverns are similar to sloppy joes, just not as "tomato-y;" I have made these for many church and work pot-lucks by increasing the quantities. For Zaar I cut the recipe down to 4 servings. I have had this recipe for many years and really don't have a clue where I first came across it. Works great in the Crock Pot.

Tagged in the *Everyday is a Holiday* game because SJs are *comfort food* for me, I made a full recipe as written except for adding garlic as a pers pref. I have made many SJ recipes & am slowly developing my pers fave recipe from the *best of the best* I have tried. This recipe is an easy-fix + ingredient-friendly & I esp liked that the longer-than-usual cook time resulted in a full-flavoured meat mixture you can actually load on a bun & pick up to eat ~ altho DH & I usually eat SJs open-face style so we can super-size the serving & dig in w/a fork. I served these SJs mounded atop buttered rolls sprinkled w/Parmesan (a great idea I adopted from another SJ recipe) & they were excellent. Thx for sharing your recipe w/us. :-)
In a medium skillet, brown ground beef until no longer pink, drain fat.
Over medium heat add additional ingredients to ground beef.
Simmer a minimum of 30 minutes, stirring occasionally.
Serve on buns.