Parsley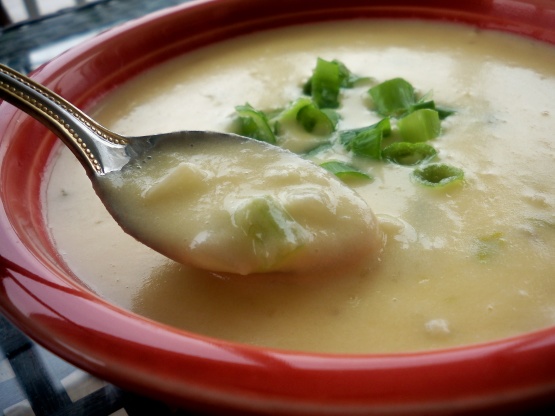 This is from a cookbook called Wisconsin Potato Sensations. I bought it at the WI State Fair and while waiting in line for my baked potato I was thumbing through it and 3 different people said this is the best soup.

Well, I kept meaning to pick up leeks at the grocery store, and every time I forgot them. So instead of the 1 cup leeks, I used only a 1/2 cup chopped scallions (because they have more onion flavor than the leeks). It still worked out fine. I did use beer for the liquid (and decided to drink one myself while preparing this... woo-hoo). This is a very hearty soup and don't think any additional sides need to be served with this (except maybe "BACON"). Thank you for posting. Hubby and I really enjoyed our lunch. (Made for PRMR)
In a large saucepan over high heat, brin potatoes, 1 1/2 cups water, celery, leeks and bouillon granules to a boil.
Reduce heat to low, cover and simmer for 25 minutes or until potatoes are fork tender.
Remove from heat (DO NOT DRAIN) and mash mixture until smooth.
Gently stir in cheese until melted.
Stir in milk, beer (or water), worcestershire sauce, salt, dry mustard, and white pepper.
Stir over low heat until hot.