Tatjana's Sambuca, With Fire!
Heydarl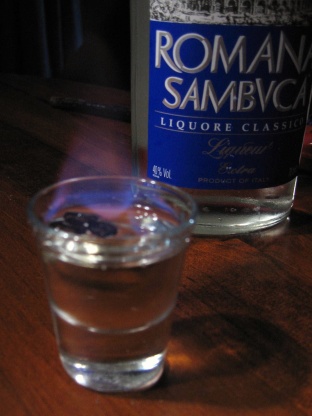 I was introduced to Sambuca a few weekends ago whilst staying with friends in Germany. Tatjana, you and your cocktail cabinet have hidden talent ! This is excellent, and I can't believe it's not already posted here. You are suposed to use 3 coffee beans, Tatjana uses 5 in hers.. personally 3 will do me just fine... you choose. She said most cheaper sambucas won't flambe but this one ( the Molinari brand) will becuase it's got the right combination of alchol and sugar content. Tatjana, I could be hooked on this!

This was a first for me but it won't be the last-yum! Made for p-a-r-t-y. a tag game.
2

ounces sambuca romana (I use Molinari)
Pour your sambuca into a shot glass.
Add the 3 coffee beans. Light the sambuka so that it flambe's, and leave lit for a minute or a minute and a half. (not more or the glass will get too hot).
Extinguish the flame by resting a drinking glass on the shot glass so that there is no oxygen and the flame goes out (takes 3 seconds or less)
Wait until the glass has cooled a little to handle and crunch a coffee bean as you drink the sambuca to blend the flavours.