Tater Tot Green Bean Casserole
Pam-I-Am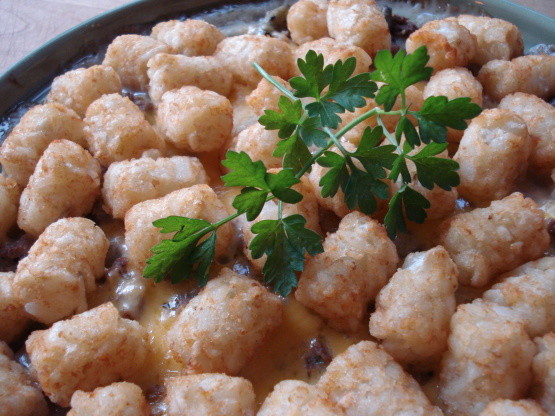 I see many different variations of this, but that's what keeps it interesting!

I love tater tot casseroles. My kids love tater tot casseroles. Hard for me to imagine who wouldn't. They are so easy for weeknight dinners, don't require any fuss at all, and economical. This one is no exception. No fuss, super filling, and quite tasty! I added some Garlic Pepper for added flavor.
Preheat oven to 375°F.
Brown and drain ground beef and chopped onions.
Return ground beef to pan.
Mix in 1 can cream of mushroom soup, 1 can of French-style green beans (drained), milk, salt, and pepper.
In a small casserole dish, place mixture evenly spread on bottom of dish.
Evenly spread cheese on top.
Evenly spread tater tots on top of cheese.
Bake in preheated oven for 25 to 30 minutes, until tater tots are browned well.