Tater Tot Cups With Cheese and Eggs
SharonChen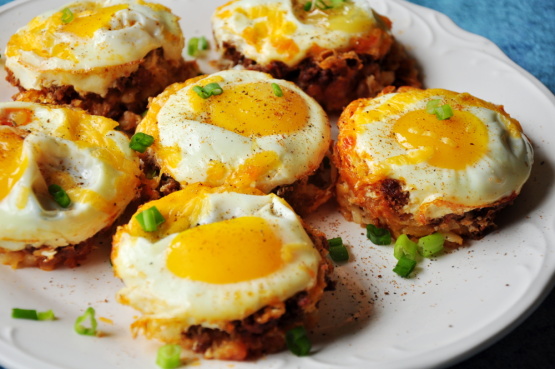 Tater tots in muffin pan with eggs--baked in the oven. A great breakfast for kids. Quick, easy and not messy. There is no salt since the potatoes are seasoned. Some like to put A-1 sauce on their potatoes.
I made this for breakfast this morning, cutting the recipe in half. I thought it was very good, although I'll probably tweak it a little. I can see that there is the potential for many variations (add sausage, sprinkle with herbs, sauces, etc). My husband really loved it--he took a bite and pronounced it "the perfect food." I won't say how many he ate--just that I had to make another bunch! UPDATE: Almost 1 1/2 years after I first made this, it remains a favorite with my DH. I cook his for 15 minutes for a more custardy yolk, and mine and DS's for 20 minutes for well-cooked yolks. Here's a tip: I find that a gravy ladle works better than a spoon for mashing the tater tots into the muffin tins.
50 -60

tater tots (1 large package in frozen foods section)

12

eggs

2

tablespoons vegetable oil

12

tablespoons shredded cheddar cheese
Preheat oven 375°F.
Let the tater tots you are using to set out for a few minutes to soften so you can squish them.
Grease 12-cup muffin pan with vegetable oil.
Take 4 or 5 tots place in each cup.
Mash with pestle or back of spoon to line the bottom and sides of each cup.
Add 1 tablespoon of cheddar cheese.
Press down in bottom of the cup with spoon.
Place in oven and cook 5 minutes.
Take out of the oven and break an egg in each cup.
Bake 15 minutes until white and yolk are set. It could be 20 minutes.
Check frequently.
If you want the yolk to be basted, spoon a little water on top of each yolk.
Remove from oven.
Use a heat resistant rubber spatula to loosen edges and bottom of each tater tot cup.
Serve on serving platter.