diner524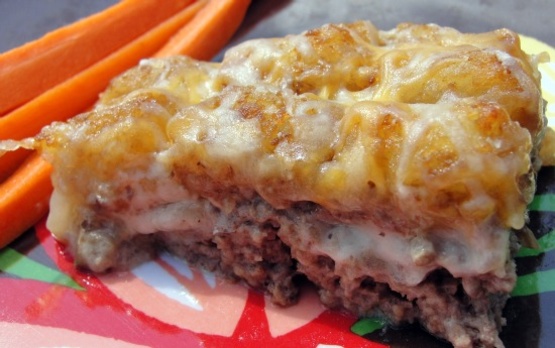 This is my mom's version; different from others posted, you do not have to brown the ground beef before adding to casserole.
I topped the ground beef with a can of French style green beans. I also added French's dried onion rings on top of the cheese before baking the last 5 minutes. This is fantastic!!!
Press uncooked ground beef into bottom of greased 9x13 pan
Season with salt, pepper, garlic powder, onion powder.
Pour cream of chicken soup on top and spread evenly.
Arrange tatertots on top of soup so that they are side by side in rows covering entire casserole.
Bake at 350 for 45-60 minutes or until juices from the meat run clear
Top with shredded cheese and return to oven for 5 minutes or until cheese is melted.
Note: You can add chopped onions or garlic to the ground beef before pressing into pan.