This is out of an old BH&G Chicken cookbook.
Directions
Combine egg, 2 tablespoons water, and seasoned salt.
Dip chicken parts in the mixture.
Roll in potato flakes.
Sprinkle with salt and pepper, if desired.
Melt butter in shallow baking pan.
Place chicken in pan, skin side up.
Bake at 375 for about 1 hour or until done. Serves 4.
Most Helpful
Simply delicious chicken Maryland Jim. I love how much flavor the potato flakes impart to this dish. Crisp, tender, juicy chicken. It doesn't get any better than this. Quick and really easy to make with just a few ingredients, for a meal that you will be drooling over. Thank you so much for sharing this wonderful recipe, that we will enjoy again and again. Kudos on making it into my Best of Cookbook for 2014.
I was pretty disappointed with this. I used bone-in thighs. The chicken was very moist, but the skin wasn't even close to being crisp & was very bland. I had to put it under the broiler & even then it didn't crisp up like I had hoped. IDK if I'll make this again or not...sorry.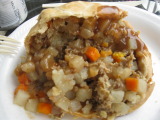 I am sure I changed the whole dynamic of this dish by using thin-cut b/s chicken breasts, but the WHOLE family liked this, even my picky DS! Other than changing the chicken,I made it as written. The chicken came out very crispy and moist and was so good. Definitely going into my Best of cookbook! Made for Football Pool 2012-13 Win.