jenne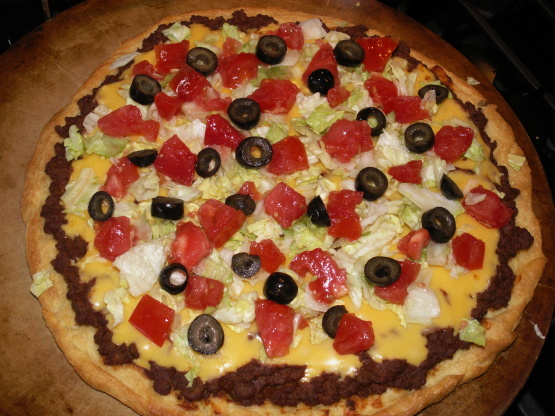 Yum. Easy to make. It was too hot(spicy) for my daughter so next time I make it, I'll use plain Velvetta and DH can spice up his portion with Tabasco. This is a recipe from my church's recipe book, submitted by Cynthia Y-K. I thought, after the game was over(go figure), that this would've been a good dish to make for Super Bowl Sunday.

YUM! Made this tonite in less than 45 min from taking the beef out of the freezer! Just defrosted the beef in the microwave and baked the shell while i made the filling. I baked it in a regular pie dish, so it was a little deeper. I also used regular cheddar cheese slices (what i had on hand). Definitely will make this again.
Brown meat.
Stir in tomato sauce and taco mix.
Simmer for 5 minutes.
Unroll rolls in a baking dish.
Bake for 10-12 minutes.
Cover crust with meat mixture.
Cut the cheese into slices, distribute them on top of the meat mixture, and continue baking until cheese melts.
Top with lettuce and tomato.