CIndytc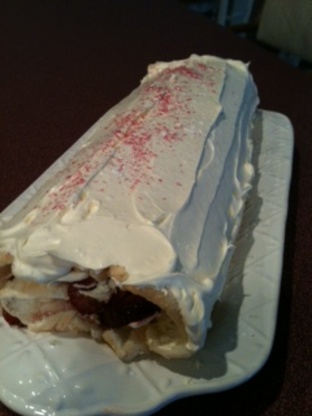 My friend's Grandmother made this one day and my family just gobbled it up. She then went to Germany before i could get her recipe. What I found is similar, something I found on the internet. I hope that you enjoy!

I make this last night. WOW, I can't believe how easy it was. I had been wanting to try it for a long time. I made my own angel food cake, and used non-dairy whipped topping. It came out of the pan really easy. I did have trouble figuring if it were done. It took 15 min., in my oven. It did crack, but I didn't let that bother me, just put whipp cream over the top and covered that up, and put some really big strawberry on the top, like the picture. My hubby was so impressed. We couldn't waite to eat some, and didn't waite for it to chill. It didn't want to stay in a circle, when I cut it. Not sure if it was because of the cracking, or that we didn't chill it. I can't waite to try it again. It is really good.
Grease 17 x 11 1/2 x 1 inch jelly roll pan with vegetable oil and line with waxed paper, grease the wax paper.
Prepare cake as directed on package.
Spread batter in pan.
Bake at 375 degrees F for 10 to 12 minutes.
Sift powdered sugar in a 17 x 11 1/2 inch rectangle on a clean dry kitchen towel.
When cake is done, loosen sides and turn out onto powdered sugar on towel.
Peel off waxed paper.
Starting at narrow end, roll up cake and towel together.
Cool on wire rack for 30 minutes seam side down.
Combine strawberries and sugar and set aside.
If using heavy cream, beat cream until foamy, gradually add 3 tablespoons powdered sugar and continue beating til soft peaks form.
Drain berries thoroughly.
Unroll cake and remove towel.
Spread cake with 1/2 the whipped cream or non-dairy whipped topping.
Top with sliced strawberries.
Reroll the cake (without the towel).
Place on serving plate, seam side down.
Spread with remaining whipped cream or topping.
Chill and slice and enjoy!