lazyme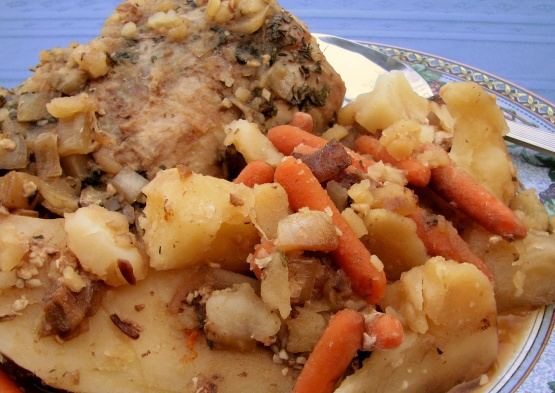 This is a recipe Sylvana made when we visited many years ago. It is a keeper; try and and you will see....Tastes and smells so good.

I want to update my review. First of all, this is a great recipe! I followed the recipe except that my roast was 4.5 lbs and I used baby carrots. It cooked perfectly in 8 hours and was a hit with my husband. The first time around I thought it was a little to salty. We had leftover roast one day and shredded pork sandwiches with this another day. Somehow it manages to get better every time I reheated it. I'm not sure I would change a thing next time!Thanks for the super recipe!
Brown roast on all sides.
Place in slow cooker.
In same skillet brown onions, garlic.
Add to the roast with all the ingredients.
Cook on Low 8 hours.
Remove pork roast and vegetables to a serving platter.
You can whisk the juice to smooth it out.