Kamisi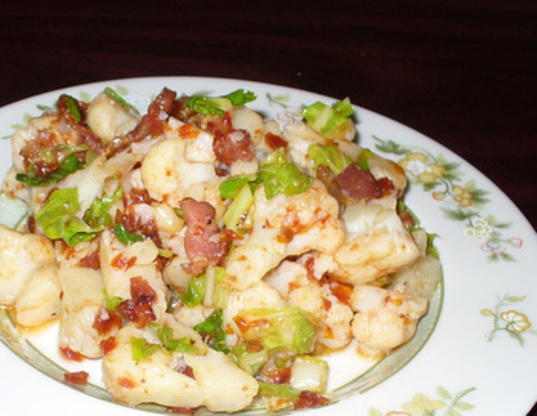 A delicious alternative to pasta/rice salads. Recipe source: local newspaper which adapted the recipe from 500 Low-Carb Recipes.

Very good! It tastes like a BTL without the bread. Even though the lettuce is optional, I recommend using it. In fact, next time, I'm going to try wrapping this inside a lettuce leaf and eating like a wrap. Thanks, Ellie, for another winner.
Using a food processor shred the cauliflower and then place the shredded cauliflower in a microwave casserole dish. Add two tablespoons of water, cover with lid or plastic wrap and cook in the microwave on high for 5 minutes. Remove, uncover and set aside.
Chop tomatoes and scallions and place in a large bowl.
Add the cauliflower and bacon and toss.
Add the maynaisse and the salt and pepper and toss.
To serve line plates or a large salad bowl with lettuce leaves (if using) and place salad on top.