gertc96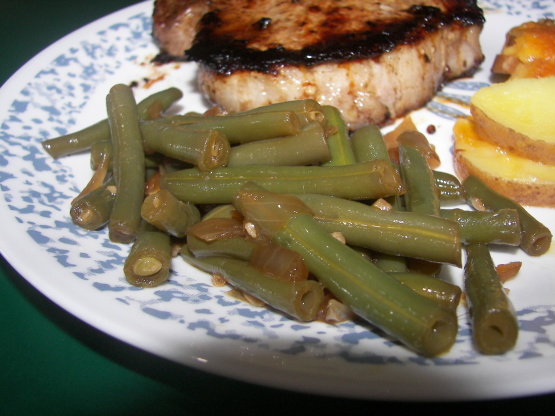 Made with soy sauce, these are my family's all time favorite green beans, especially with Firecracker Salmon OAMC. mmmmmmmmm. tasty. I've modified the recipe from the original, found on Allrecipes.com.

Yum! another easy to make, quick and healthy weekday meal addition to our menu. We liked this, I did cut the amount of butter down by a tad more than half, since we are trying to eat healthier and I omitted the water and beef bouillon and used a cup of salt free home-made beef stock. Great taste without the sodium. Please see my rating system: 4 excellent stars for a great family recipe that I will be making again with pleasure. Thanks!
Bring a large pot of water to a boil.
Add green beans and cook for 5 minutes.
Drain and rinse with cold water.
Melt butter in a large saucepan over medium high heat.
Add green beans, onions, and garlic.
Stir in soy sauce.
While stirring, add bouillon and water.
Reduce heat to low and simmer, stirring occasionally, for 20 minutes or until beans reach desired tenderness.
CAUTION: THIS CAN GET SALTY! If you don't like salty food, use low sodium soy sauce and cut WAAAY back on the bouillon until you get it to your preference. My in-laws are on a low-sodium diet, and they don't like it, but my family can't get enough. Go figure! :).