Tasty Frozen Collard Greens
Debbwl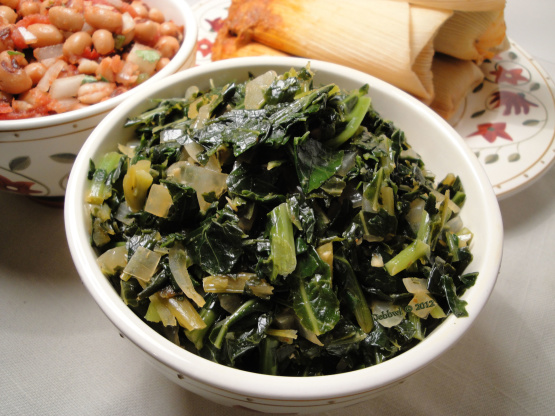 Was looking for a low fat and healthy way to fix Collard greens that DH would eat as all the low fat version we had tried always left him saying its ok although a bit too spice. This recipe has a very slight sweet under tone which I believe comes from the sweet onion and the Sriracha chili sauce.

What a hit! I'm very happy when I find recipes for greens where they aren't cooked (boiled) to death. I *did* use fresh collards & just left out the water. Perfect! Maybe even a little on the spicy side but then again, I eyeballed that TB of sriracha! Thanks! Made for Culinary Quest 2014/Cruisin' Culinary Queens xo Bethie/elmotoo
1

tablespoon olive oil

1

tablespoon butter
1⁄2 large sweet onion, chopped

1

garlic clove, finely chopped

1

lb frozen chopped collard greens
1⁄4 cup water

1

chicken or 1 vegetables, flavor boost

1

tablespoon sriracha chili sauce (more or less to taste, found a tablespoon keeps everyone happy and those who want more can)
salt & freshly ground black pepper
In a large pot over medium heat oil and butter, sauté the onions and garlic until softened, but not browned just about 2 minutes.
Add frozen chopped collard greens, water, flavor boost and Sriracha chili sauce. Cover and simmer 6-8 minutes until greens are tender.
Serve piping hot with addtional Sriracha chili sauce on the side.