lazyme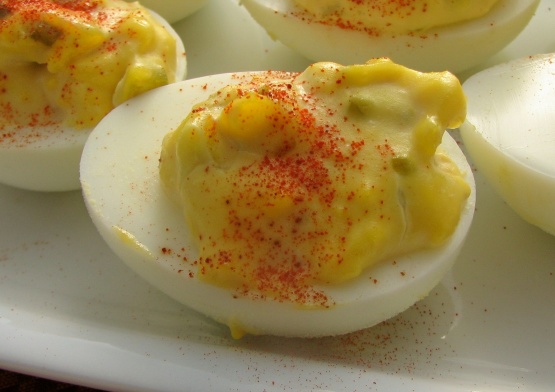 I came up with this one after becoming bored of the same old yolk-and-mayo deviled eggs. I love the hint of horseradish....not strong but tasty.

YUM-O, Parsley 72! Can't give this enough stars...I truly loved the change -- especially the hint of horseradish! I made these for a cookout, tasted one, and darned if I didn't stand there and eat half the dang batch myself!!!!!LOL! Jeez...I had to make another batch for my family!!! LOL! Very addictive, and a great change from the "usual." Thank you for posting this! Stacy :)
Place yolks into mixing bowl; mash with a fork or potato masher.
Combine mayonnaise, horseradish, mustard, relish, celery, garlic powder with the yolks and mix well.
Spoon, or pipe with pastry bag or baggie, into hollowed egg halves.
Sprinkle each with paprika for color/garnish.