PaulaG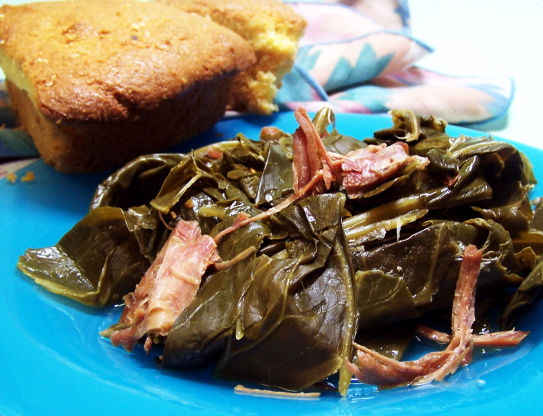 Would be equally as good with turnip or mustard greens or even kale. *I do the cooking of the smoked turkey leg a day ahead, refrigerate and then skin the congealed fat off the top of the broth. This is our favorite method of cooking greens.

I'm not a huge fan of collard greens as I never had them until I was an adult, but I'm trying to come around. Hubby said he liked this recipe. The seasoning was very good, he felt as though it could've cooked longer. Thanks for sharing.
1⁄4 cup olive oil

2

tablespoons garlic, minced

5

cups chicken stock

1

smoked turkey leg

5

bunches collard greens, rinsed, trimmed and chopped
salt and pepper, to taste

1

tablespoon crushed red pepper flakes (to taste)
Heat oil in a large pot over medium heat. Saute garlic until light brown. Add turkey leg and chicken broth, cover and simmer until turkey leg is tender. Remove turkey leg and cool slightly so comfortable to remove and chop meat and return turkey meat to pot. *(See note above in the description.).
Add collard greens and turn heat up to medium-high and let the greens cook down for about 45 minutes, stirring occasionally.
Reduce the heat and season with salt, pepper and red pepper flakes (if desired.).
Continue to cook until greens are tender - about 45 to 60 minutes.
Drain greens and reserve liquid to reheat leftovers. I often freeze some of the liquid and use with frozen greens at another time.