momaphet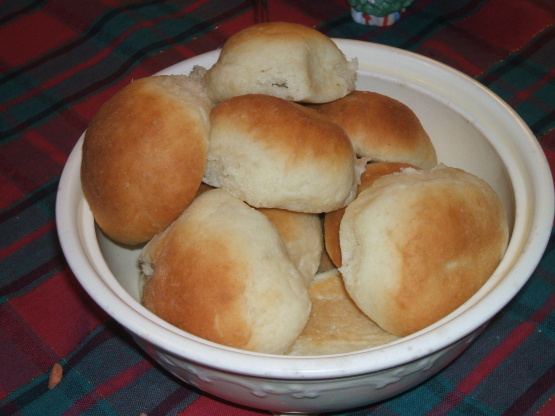 These are so good we eat them plain. No butter needed, though if you want to go through all the trouble of getting it out of the frig and getting a knife, etc. be my guest. Actually got this recipe from allrecipes.com (but that was before I found this website...I'll never go back!) ha!

These were great and tasty buns. They are such soft and fluffy rolls! I moulded mine to 16 little mini rolls, and they turned out a great size, great as a afternoon snack. These buns rise really well, and it DOESN'T have a yeasty taste at all. Just like Mirjam, I also punched down the dough and let it rise a second time before shaping and letting it raise on parchment paper before putting it in the oven. I cut down the water to 1/4 cup, and added 1/2 a cup of fresh orange juice instead. The I grated the rind of the oranges into the mixture. I brushed the top of the rolls with a little beaten egg mixture, just to give it a nice colour and gloss. Turned out just like it would if you bought it in a store. Try this recipe, it is fail proof...I am an utter novice in bread making. :)
Mix 2 C flour& yeast.
In a separate bowl, heat milk, water, oil, sugar& salt to lukewarm in microwave.
Add all at once to flour mixture and beat till smooth.
Mix in enough flour to make a soft dough (2-3 Cups).
Mix well, then turn out onto floured surface and let rest under a bowl for about 10 minutes.
Shape dough into 12 slightly flat balls and place on greased baking sheet (I actually prefer to use parchment paper-- easy clean-up!) to rise till doubled in size.
Bake in preheated 400 degree oven 12-15 minutes.