Boomette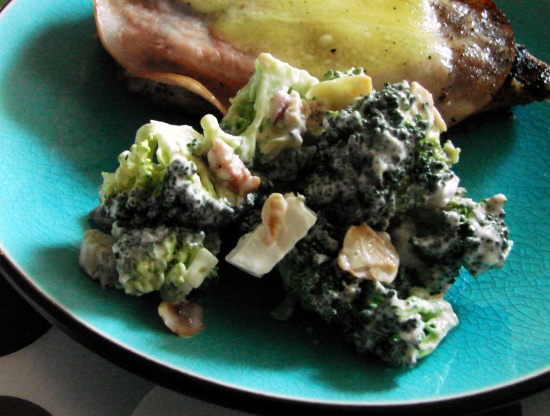 A great tasting salad, which can be made ahead and refridgerated up to 3 days. Refrideration time is included in preparation time.

Top Review by lac925
My sis-in-law always makes this salad for family parties, and I keep forgetting to ask her for the recipe...but then, I found THIS recipe and tried it - SUCCESS!!! It's exactly the same! I only had Miracle Whip on hand (instead of Mayonnaise), which made it a bit sweeter, but other than that, it was amazing! And my 2-yr-old boy LOVED it - I didn't think he'd take too well to the raw broccoli, but the sweetness of the dressing and the raisins toned down the "broccoli" taste. I will make this salad over and over again! TY!
Wash broccoli, ahead of time and drain well on paper towels.
In a large bowl, combine the first 5 ingredients including the broccoli and mix well.
Combine dressing ingredients, and spoon over broccoli mixture and toss.
Refridgerate for several hours before serving.
Sprinkle bacon bits over salad just before serving.