Tasty BBQ Corn on the Cob..try Me!
kpfen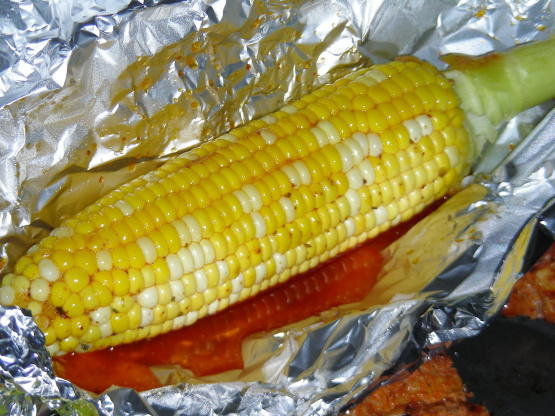 If you have never had fresh corn on the cob grilled, you are missing out! Not only easy, but great flavor as well! ZWT REGION: United States of America.

Top Review by kpfen
This tasted very good prepared on the BBQ. We too prefer our corn more on the "raw" side so I only grilled it for 15-20 minutes and it was perfect. I also put all the ingredients in a cup and microwaved then mixed and poured over the corn. Next time I will change around the ingredients a bit and add more salt.
Preheat grill for medium-high heat.
In a medium bowl, mix together the chili powder, oregano, onion powder, cayenne pepper, garlic powder, salt, and pepper. Blend in the softened butter.
Apply this mixture to each ear of corn, and place each ear onto a piece of aluminum foil big enough to wrap the corn. Wrap like a burrito, and twist the ends to close.
Place wrapped corn on the preheated grill, and cook 20 to 30 minutes, until tender when poked with a fork.
Turn corn occasionally during cooking.