Tasty and Light Berry Parfait
Derf2440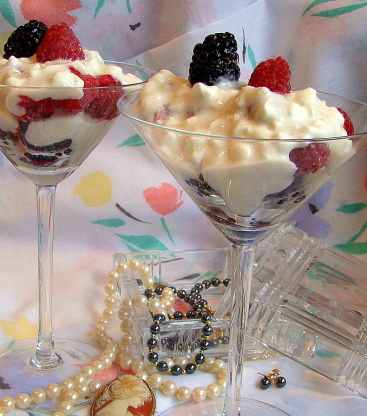 Who doesn't like a parfait? This is a quick and healthy elegant looking dessert all will enjoy.

YUM11 On Sundays we usually have an appetizer instead of lunch, this was perfect and delicious. I used blackberries and raspberries, was a lovely combination. Loved the flavour combination of vanilla and almond, I will make this again, next time maybe for a dessert, versatile enough to be either lunch or a dessert. thanks for posting.
Place strawberries in small bowl and add 1 tsp of Splenda. mix well.
In separate bowl, place blueberries and mix with 1 tsp of Splenda.
In a mixing bowl, combine cottage cheese, yogurt, vanilla and almond extracts. mix well.
In 2 large dessert glasses, layer in order: 1/2 of the blueberries, 1/4 of the yogurt mixture, 1/2 of the strawberries, 1/4 of the yogurt mixture. Reserve a couple of each berry to top each glass.