Tastebud Tickling Bellini Sorbet
MamaJ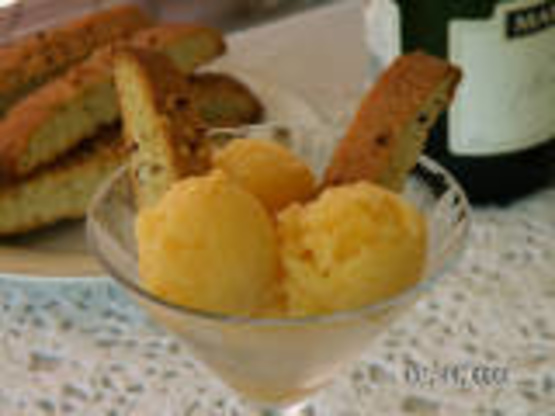 What could be better than a fresh peach and Prosecco bellini on a warm summer day? Why a cold refreshing bellini sorbetto of course! Made with the freshest ripe peaches, our tantalizing concoction of prosecco and peach is sure to tickle your tastebuds. Preparation time does not include time to freeze.

Fun and very nice with the frozen peaches, although I'd like to try it again later in the summer with farmer's market ripe peahces. I liked it in the sparkling wine as a dessert drink better than by itself, but it was tasty either way. Made for the Daffy Daffodils ZWT4
1

cup water
3⁄4 cup sugar
1 1⁄4 lbs ripe peaches, peeled, pitted and sliced (or 16 oz. frozen peaches, thawed)

1

lemon, juice of
1⁄2 cup prosecco or 1⁄2 cup asti spumante sparkling wine
Stir sugar into water in a small saucepan over medium heat.
Stir until sugar dissolves.
Bring to a slow boil and boil for 3 minutes. Cool.
Puree peaches in a blender; add cooled syrup and lemon juice.
Stir in wine.
Freeze in ice cream maker according to manufacturer's directions.
Serve in a cocktail glass.
*May also serve a small scoop in a tall glass and add sparkling wine for a refreshing after dinner dessert drink.