Taste of Thai Beef Salad - Yam Nuea
Prep 15 mins
Cook 10 mins

From the Taste of Thai company. This recipe from the label looked so interesting that it needed to be shared.
Directions
Grill or broil flank steak.
Slice into thin bite size pieces.
Chill.
Combine lime juice, fish sauce, minced red chili peppers, and garlic in a large bowl and mix well.
Add red onion, cucumber, cilantro, scallions and chilled steak.
Toss together well and serve over torn lettuce.
Reviews
Most Helpful
THE BEST SALAD MY HUSBAND EVER EVER EVER EVER EVER MADE AND I EVER ATE. IT'S everything i love in one dish.. thank you for sharing.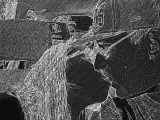 Made this for hubby with some leftover tri tip roast. He loved it!!!

This recipe was excellent! I added Tbl of fresh mint. I used sirloin instead of flank and it came out just great. Thanks for sharing!