Taste of Home Homemade Pizza Crust
Suzzy Q.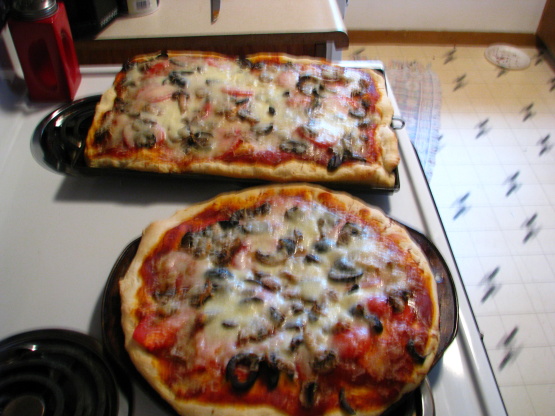 This recipe is our family's favorite. It is quite filling and very tasty. It easily satisfies one's hunger with one large slice.
In a large bowl, dissolve yeast and sugar in warm water; let stand for 5 minutes.
Add oil and salt.
Stir in flour, one cup at a time to form soft dough.
Turn onto floured board, knead until smooth and elastic. (about 2-3 minutes).
Place in greased bowl, turning once to grease top.
Cover and let rise in a warm place until size nearly doubles. (about 45 minutes.).
Press into greased pizza pan.
Spread with pizza sauce. Add any desired toppings. Cover with cheese of choice.
Bake at 400 degrees for 25-30 minutes or until crust is lightly browned.
Enjoy!