Taste of France Salad Dressing
Baby Kato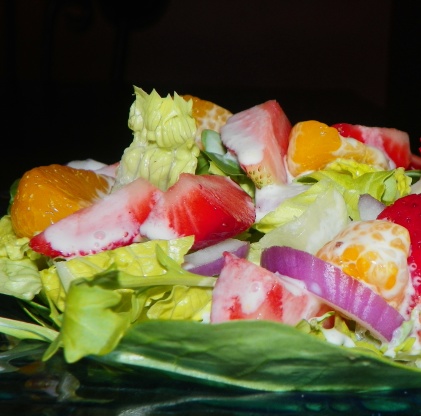 From Paris down to Provence we had this kind of salad dressing over the freshest greens, and I could not find out exactly how this creamy dressing was done. There are, I think, 2 nearly similar recipes on this site. But I have tweaked them, and this variation is really gorgeous. Soooo easy. The photo shows it drizzled over nothing more than romaine halves with spring onions, but obviously it will be great if tossed with any salad.

I KNOW and LOVE this dressing Zuri and I also make it home myself sometimes, when I'm not too lazy and have bought a bottle from the supermarket, because, YES, you can buy it there! The secret for the pink dressing that you often see is that they use dried pink shallots, and that is also divine! I made this with all the ingredients you listed and then went a bit off piste and used some Malden SMOKED sea salt, it is UTTERLY amazing! You have to try it and if you can't get in SA I will send you some! Made in memory of your beloved Gideon.
2

tablespoons lemon juice, freshly squeezed (30 ml)

1

tablespoon superfine sugar (15 ml caster sugar)

1

pinch sea salt (Maldon or pink Himalayan salt, or just table salt, to yr taste)

1

teaspoon mustard, Dijon, smooth (I used a teaspoon)
1⁄4 cup fresh cream (about 63 ml)

1

pinch coarse black pepper
Put the lemon juice in a bowl, and add the sugar. Whisk a little, for the sugar to dissolve. (Do not use granulated sugar, as it takes too long to dissolve).
Add rest of ingredients, and whisk. Leave a while. The dressing will thicken a little.
If using with loose-leaf "mesclun" or young green salad leaves, toss with very little drressing, only enough to slightly coat the leaves.
In the photograph I used more dressing, on 2 halves of a romaine, (here called cos lettuce) to drench the halves in the dressing.