Tashkent Non (Uzbeki Bread)
awalde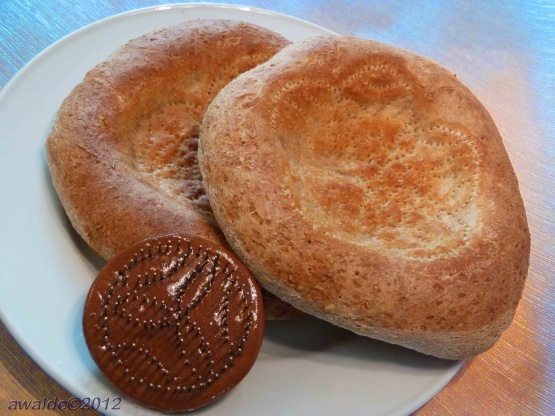 Courtesy of instructables.com, which has some great photos. This is a light and fluffy bread that is sold everywhere in Tashkent. The bread is traditionally baked in a tandyr oven, but we will make do with our ovens. The author states that is is addictively delicious with honey and butter (well, buttery lard is what he said, but I don't think so!)

Top Review by awalde
After reading this recipe I knew I had to know more about this bread. Searching in the internet felt that I had to find one chekich as these breads are really beautiful.
Where can I buy one? After some hours looking in the internet my husband came to me and he helped me searching. We tried many words combinations: bread, stamps, Usbekistan, chekich, Tashkent Non, flatbread, buy, price and so on. (You have to look at the gorgeous photos in the internet as well).
Admiring the incredible shapes of these bread and the beautiful stamps, I really wanted to find my stamp, but since then, nothing.
After sleeping on Sunday morning early I found a solution. I have to make my chekich myself.
Two hours later my chekich was ready, I only to prepare the dough and wait until it was ready to use my stamp.
This was really easy, the recipe quantities perfect. I greased my stamp as I wanted to be sure that I wouldn%u2019t stitch in the dough.
For the incredible result see my photo.
Thanks a lot for this wonderful recipe, the inspiration and the travel...
Dissolve the yeast in the water.
Add the flours and salt to make a soft dough.
Turn out and knead until it's smooth, but still a little sticky.
Let rise in a warm place for two hours, or until doubled.
Turn out and divide into 4 pieces.
Form each pieace into a flattened round. Press in the center section of each round - you don't want it to rise as much.
Let rest, covered, on a lightly floured surface for about 20 minutes.
Preheat oven to 450 or 475 deg - if you have a pizza stone or quarry tiles, use those, otherwise use a cookie sheet.
Press down the center of each round again, and then press in a chekich, if you happen to have one, or prick the center area with a fork - the chekich makes a nice pattern - star shapes etc. - so why not use your fork to make a nice pattern, too? Do this just before putting into the oven, so if your oven will not hold all four loaves at once, hold off on the ones that are staying on the counter.
Lightly brush the loaf with milk, oil or melted lard and sprinkle with nigella or sesame seeds.
Bake for about 15 minutes or until golden brown.
Best eaten hot or within a day or so.