Tartiflette - Alpine Melted Cheese, Bacon and Potato Gratin
French Tart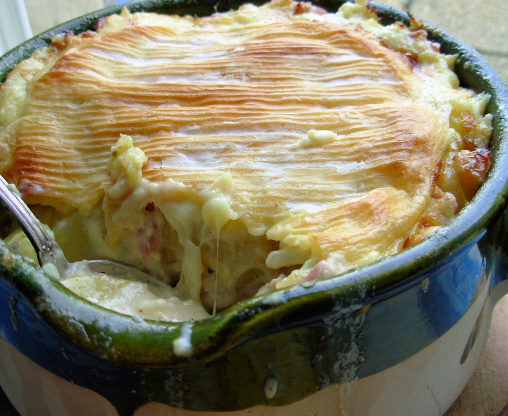 Fast becoming a classic, Tartiflette is the perfect palliative supper dish for chilly autumn and winter evenings. This delicious, rich and hearty dish hails from the Alpine Haute Savoie region of France. For authenticity's sake, try to get hold of a whole Reblochon cheese. Reminiscent of Camembert or Brie in flavour, texture and shape, Reblochon has the perfect melting quality for Tartiflette. In addition, as this dish can be prepared a day or so ahead, it could make the ultimate Bonfire Night or Halloween centrepiece! This is a truly indulgent dish, which is best appreciated after a strenuous morning on the ski-slopes — or at least a brisk winter's morning walk. It is important to use a ripe Reblochon, preferably bought a few days in advance and left to reach maturity out of the fridge. For this to happen, it should be uncategorised. Of course, if you have a good cheese monger you will be able to buy one ripe and ready to eat. Serve the Tartiflette hot and straight from the gratin dish with fresh salad, crusty bread and assorted pickles. Edited to add: One reviewer made a comment that you should fry the bacon and discard the fat - it IS stated in the main instructions to do just that! Also, if your potatoes are not cooked after 15 minutes plus 25 minutes in the oven, you have not cut them thin enough - try to cut them quite thinly, as shown in all the photos. Reblochon cheese is a very STRONG cheese - do not try this recipe if you are not a lover of strong cheese! Merci:-)

Delicious tartiflett , used jacket potatoes cooked not quiet through, peeled and sliced them a little thicker, topped with reblochon skin sides up in in a crueset with lid on for 20 min. removed from oven gave a stir, returned to oven uncovered to brown and form crust.
Preheat the oven to 200°C/400°F/gas mark 5.
Bring a large pan of water to the boil and cook the potatoes whole, in their skins, for 15 minutes.
Meanwhile, cook the onion and bacon in the butter in a heavy frying pan over a medium heat; they should sweat but not brown. When they are cooked, discard the fat and add the glass of wine and the creme fraiche and mix well.
Drain the potatoes and as soon as they are cool enough to handle peel them — the quicker the better. Slice thinly across.
Choose an ovenproof earthenware dish and rub it well with the cut halves of garlic. Layer half the sliced potatoes across the base, season them with salt and freshly ground black pepper, then scatter over half the onion and bacon mixture.
Cut the Reblochon cheese in half through the centre of the cheese, leaving you with a cut edge and a skin/rind edge, then lay one half of the cheese on top of the potato, bacon and onion mixture. Add the remaining bacon and onion mixture followed by the rest of the potatoes and more seasoning.
Place the remaining half of cut Reblochon cheese skin/rind side up on top of the potatoes. Bake for 10 minutes, then reduce the heat to 180C/350'F/gas mark 4 for a further 20—25 minutes. The Reblochon should melt within its skin and the cheese drip down throughout the dish, while the potatoes will become crispy and golden brown.
Tartiflette is a filling dish and all you really need to go with it is a mixed green salad, crusty French bread and a selection of pickles.