Tarte Tatin Aux Courgettes (Zucchini Pie)
awalde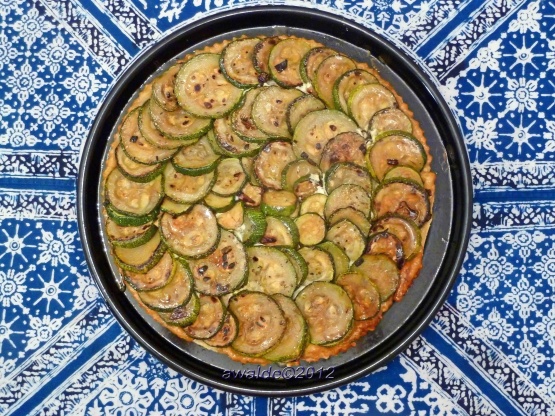 You can try this recipe with other vegetables as well. From: easy-french-food.com

A great savory tarte. I can imagine all sorts of vegetable combinations. I found that the amount of salt was just right. I like the technique of cooking the tarte upside down. Solves the soggy crust problem. I'll use this technique for other recipes. Plus it was easy to flip over. I used a square puff pastry and it made no difference. It still looked elegant.
1

onion, chopped

2

tablespoons olive oil

2 -3

medium zucchini, sliced in 1/4 inch rounds (if you look for even sized vegetables, you can get a nice looking finish on your tart)

1

teaspoon dried thyme
1⁄2 teaspoon salt
1⁄2 teaspoon pepper

4

ounces fresh goat cheese

1

puff pastry, round
Cook the onion in the olive oil on medium heat for 5 minutes, stirring occasionally. Add the zucchini and continue cooking and stirring just until the zucchini softens a little, about 6 to 8 minutes. Stir in the seasonings and remove from heat. Allow to cool before assembling the tart.
Grease a 9 or 10 inch round baking pan. Place the zucchini slices in concentric circles on the bottom of the pan. Sprinkle with the onion. Break the goat cheese into small pieces and distribute evenly over the vegetables.
Cover the filling ingredients with the pastry, tucking in the edges around the vegetables. Bake at 400° F for 20 minutes or until golden brown. Remove from oven and allow to cool for 5 to 10 minutes before flipping onto a serving plate.