Linky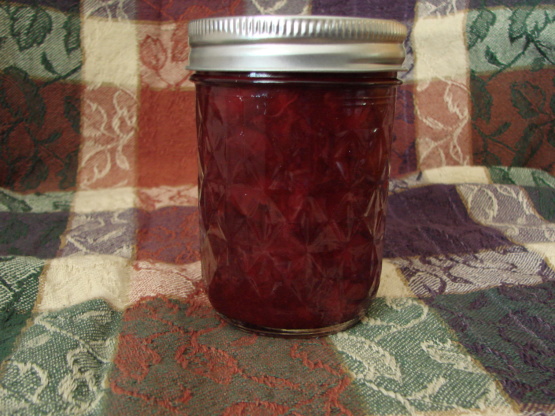 I like this recipe because I have sour cherry trees. It makes wonderful jam.

Top Review by Linky
This was terrific! I made it to use up some frozen Door County (sour) cherries when I defrosted my freezer. I was going to give away the jam to my friends, but it's so good I don't know if I will be able to part with it! The almond extract adds just the right hint. I used the pink box of "less sugar" type of sure jell.
4

cups prepared seeded cherry pulp
4 3⁄4 cups sugar

1

box Sure-Jell
1⁄2 teaspoon butter
1⁄4 teaspoon almond extract
Follow sure Jell Directions.
Water Bath Can 15 minutes using regulation jars& new caps.
Note: put your fingers into the pulp to find any missing seeds before you make jam.
Follow Sure Jell Instructions for Cooked Jam.
Please water-bath all Jam for 15 minutes.
Jam canned this way will be safe& last over 2 years without mold.